The Church of Our Lady Of
Warnford
'The Snowdrop Church'

"Deep in the woodlands of the Meon Valley, the Church
of Our Lady of Warnford stands in peaceful isolation. This
is hallowed ground where God has been worshipped
continuously for thirteen hundred years. The church serves
a scattered parish of farms and cottages, for there is no real
village centre of Warnford."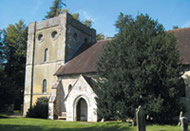 Two ancient stone tablets, written in Latin, lay claim to the founding of this church by Wilfrid during his time in the Meon Valley and the people of Warnford would have it that Wilfrid made his headquarters here, although the source of the claim has not been found. In any case, Adam de Port, the Lord of the Manor who lived in Warnford 500 years after Wilfrid respected the link with the saint as he rebuilt this church in stone in 1190.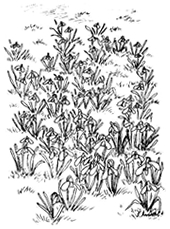 The Meonwara had probably chosen this site of a clearing in the woods beside the River Meon, and so it is easy to imagine their settlement today. However, these grounds have undergone substantial change over the centuries. Don't miss the ruins of St John's house behind the church built in 1210 by the St John family who had married into the de Ports. This is a very rare example of a 13th century hall, unique in the South of England and described in the church leaflet.
The flat ground to the left of the bridge as you approach was the site of an Elizabethan mansion built to replace the old hall which first became a barn and then a 'scenic ruin' when the estate was landscaped by Capability Brown in about 1760. At this time the Meon was expanded into the lake we can see today and the old riverside road from Alton to Gosport was diverted to the line of the present A32.
Thousands of visitors come to the church in the spring to see the glorious display of snowdrops - in fact, many just know Warnford as the 'Snowdrop Church'. Don't miss the gravestone under a holly tree outside the church door and beware of gardening on a Sunday!
Pilgrim's Prayer Panel

Adam de Port built this church and left these inscriptions:

Brethren, bless in your prayers the founders young and old of this temple; Wulfric who founded it; good Adam restored it' (porch).
'May the race signed with the Cross (ie Christians) from the rising of the sun bless Adam de Port by whom I have been thus restored' (north wall - outside).

Can we join in these prayers and give thanks for Wilfrid, Adam de Port and all the generations who have worshipped here and ask God to bless us and those we love?