St Nicholas' Church, Wickham
The church on the hill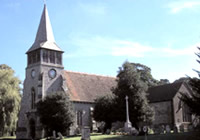 We have no record
of any association
between Wickham
and St Wilfrid
although there can be
no doubt that he would
have passed by frequently in
the years 681-686. The present
church dates back to 1120 and it is
possible that it was built on the site of an
earlier Anglo Saxon chapel. The location of the church may be of interest to us today as we wonder why it stands so majestically on its own outside the village.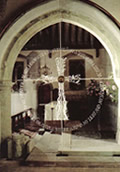 However, the original church stood beside the manor house, known as Place House. This house stood on the land between the present A32 Fareham and B2177 Southwick roads. In due course, a village grew up around the church but when the Lord of the Manor was granted a royal charter in 1269 to hold a market and a fair, the village moved across the River Meon to its present position.


This was the situation until 1832 when the Lord of the Manor, William Garnier demolished Place House and built himself a new house, Rookesbury, set in its own park at some distance from the church. Thus, St Nicholas finds himself somewhat isolated on his little hill and Rookesbury has now become a school. The church was almost wholly rebuilt and extended by the Victorians in the 1870s.
The parish website for St Nicholas Church in Wickham can be viewed here: www.stnicholaswickham.org.uk

Pilgrim's Prayer Panel

The beautiful glass Lady Chapel screens and doors were designed and engraved by Tracey Sheppard, a Winchester-based artist, for the millennium. The chapel is a unique place in which to reflect on the Biblically-inspired design and quotations from the Psalms. The pilgrim is invited to loiter awhile.

On the fixed glass screen, a cross has been formed from a Blackthorn tree, the dead lower section gradually breaking into leaf, bud and flower reflecting the new life we can have in Jesus Christ through Hisdeath and resurrection. The pilgrim may be encouraged to pause awhile and reflect on the Psalms: "Be still, and know that I am God", (Psalm 46:9); and "The Lord is my light and my salvation", (Psalm 27:1).

The central bronze patch is engraved with the symbols Alpha and Omega reminding us of Jesus' place at the beginning and end of all creation.

The Psalms are also used in the engravings on the doors and the symbolism is explained in the Pilgrimage Trail handbook.