St Andrew's Church, Meonstoke

St Andrew's Church is a classic thirteenth century
country church which has changed little over the
centuries. Situated alongside the river and meadow
with weeping willows and the village pub, it
represents all that people love in an English village and
is one of the most-photographed spots in Hampshire.
Meonstoke was less prosperous than other Meon villages
over the centuries and so there were fewer changes than in
some of the other churches in this pilgrimage.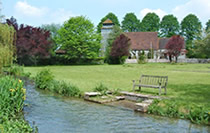 The church was started in 1230 and local legend has it that it was built to rival Corhampton church, across the river, which was built in 1020. Apparently, the original inhabitants of Exton and Corhampton were Saxons and the Meonwara were Jutes and there was little love lost between the two tribes. Friction continued between the two communities for many centuries. A bridge was not built across the river until 1805.
The tower was rebuilt of flint rubble in the fifteenth century and at that time the two side aisles would each have had their own separate roofs and the stone quatrefoil clerestory windows which can be seen high in the nave would have been open to the sky. The church, which is rather dark now, would have been filled with light and colour in those days.
The present roof covering nave and aisles was built in the eighteenth century. The tower was given its present attractive and distinctive open top in 1900. The galleried wooden design was to save weight.
The roof of the chancel above the choir and altar was covered with a Georgian barrel vault until one Sunday in the 1800s when a large portion at the western end fell down, narrowly missing the rector who had gone to the chancel step to address the Sunday School children. This combination of Newton's Law of gravity and Divine Intervention was far more effective than the lesson he had planned!
Pilgrim's Prayer Panel

Visitors to Wilfrid's abbey at Hexham are invited to use the following prayer which you may wish to say here:
Almighty God,
who inspired Saint Wilfrid
to establish a church on this site
and to persevere after truth:
help us to know your presence among us now